I was born on September 22, 1974 in Gainesville, Florida, but I didn't stay there for long. I moved to the major metropolis of Tampa, although "was moved" is probably somewhat more accurate.
In Tampa, I attended Berkeley Preparatory School for two years, then decided I hated having to wear a uniform to school and demanded to be placed in public school. So I spent second through fifth grade at Dale Mabry Elementary School (although I see they require uniforms these days, but that's another story entirely). Then came sixth grade, and Roland Park Elementary School, an example of a desegregation plan in action.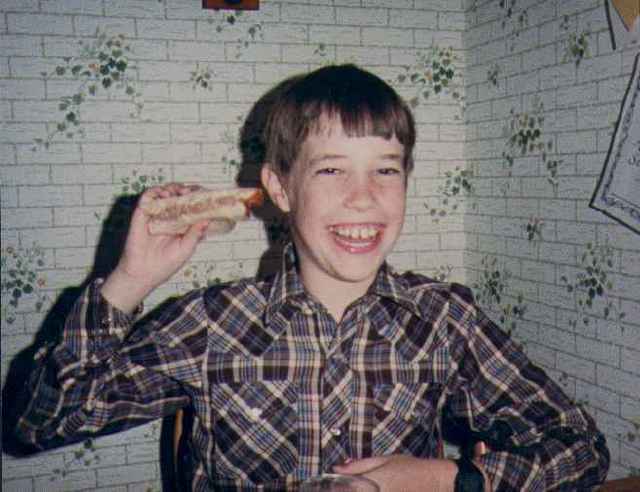 After sixth grade, my family moved across town and I went to Woodrow Wilson Junior High (now a middle school) for seventh through ninth grades. My friends from Wilson and my friends from Dale Mabry were all jumbled up together at H.B. Plant High School (and I'm not linking to their web site because it plays the Alma Mater very loudly), where I spent tenth through twelfth grades. While at Plant, my distinguished academic career was capped by my receiving the prestigious Golden Panther Award for being the best student in either drafting or auto mechanics. Really.
For various summers during this time, I was shipped off to Camp Gwynn Valley in the mountains of North Carolina; after I got too big for the bunks, I attended the Summer Residential Program of Duke University's Talent Identification Program for four years in a row. Once they got sick of me, I went to the National High School Institute at Northwestern University for a summer.
And so I ended up as a radio/TV/film major at Northwestern. I spent four years living in the Communications Residential College, a dorm for people interested in communications (as you might be able to tell from the name). I served as CRC's vice president for a year, and as CRC's historian for two years. There were also radio shows, late-night movies, and lots of poking at the cafeteria food to try to determine its species.
It is at CRC that I discovered the Internet (because I happened to be there while everyone else in the world was discovering the Internet), so you have CRC to thank for your reading this page right now.
Anyway, I graduated from Northwestern's School of Speech in June 1996. Having nothing else to do, I moved back to Tampa and ended up working part-time for a health care recruiting firm.
Then some other stuff happened. Please enjoy this picture of my cat.
Extra Bonus Picture of My Cat Chessie: